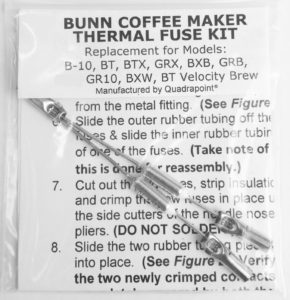 SKU: 741110260204
Repair Your Bunn Coffee Maker ~ Water not Heating? New Thermal Fuse Kit
Guaranteed to work for years!  These thermal fuses have never failed!
Symptoms for needing this kit:
Power light is not coming on.
Water not heating.
Bunn Coffee Maker Thermal Fuse Kit includes:
(1) Thermal fuse assembly
(1) Detailed Installation Instructions
The installation instructions provide detailed procedure and pictures on how to safely install the blown thermal fuses. They also include what to watch out for and ways to verify proper installation. Improper installation of these thermal fuses can be hazardous and possibly cause a fire. That is why this kit was created. The thermal fuses are crimped into place to insure a safe installation the same way Bunn manufactured this product.  Each harness has been tested, inspected and verified to provide optimal performance in your Bunn Coffee Maker.
Fits the following Models:
B-10
GRX, GRX-B
BXB
BTX, BTX-B
GRB
GR10
BXW
BT Velocity Brew
Quadrapoint has researched and found the best thermal fuses that will provide a lifetime of protection.  Quadrapoint uses the highest quality crimp standard in the industry.  Since we have been in the business of making quality products for decades, you can buy with confidence.
This is not manufactured by Bunn-O-Matic.
All manufacturers' names and part numbers used are trademarked by the respective manufacturer. These names and part
numbers are being used without permission. No endorsement, affiliation or recommendation is implied. They are included for reference purposes only.
NOTE:  Quadrapoint can not guarantee that this is what is wrong with your Bunn Coffee Maker, but if your power light is not coming on and the water is not heating there is a very good chance that this simple repair procedure will fix your coffee maker for years to come.  Please look at feedback to see the many satisfied customers.